I ordered some carbon forks for the Spesh over the weekend and they arrived today. I went for a pair of Exotic carbon forks: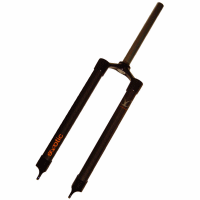 They are disk only and corrected for 80mm travel frames, most carbon forks these days are based around a 100mm travel frame. The only thing to think about now is how to fit a decent mudguard to the front.
Hopefully Jez will fit it over the weekend - and I need to start whining about the Titus....I want to ride it again.